Diesel Exhaust Fluid is an important component in keeping heavy-duty trucks and machinery operating within emission guidelines.
It is an ammonia-based fluid that is injected into the catalyst and a chemical reaction breaks down the NOx into nitrogen, water and small amounts of CO2. To show you how the tank actually works, we've provided an illustration of the tank, breaking down the functions of each component.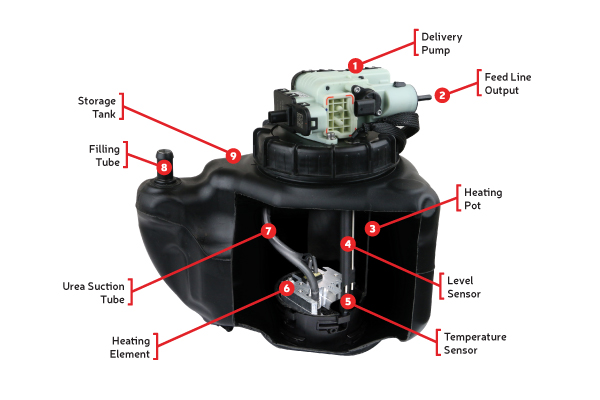 The fluid is stored in the plastic storage tank (9). The fluid's level is monitored by the level sensor (4). The level sensor consists of four electrodes that measure the fluid level through conductivity. The level sensor only has the capability of reading 0%, 33%, 66% and 100%. Fluid's temperature is monitored by the NTC temperature sensor (5). Below -34°C (-30°F) the DEF system activation is disabled by the ECM.
DEF fluid is a urea based product, it freezes at -11°C (12.2°F). The heating element (6) is used to prevent the fluid from freezing while the engine is running. With the engine off, the heating element will not engage and the fluid will be allowed to freeze if the ambient temperature is below the fluid's freezing point. Depending on the size of the tank, it might take up to 5hrs for the fluid to fully thaw out.
DEF fluid is delivered to the pump (1) via suction tube (7). Inside the tube there are three separate passages, two of them are used to deliver the fluid and one to house the electrical supply wire for the heating element. The tube's inlet is located very close to the heating element to ensure that liquid fluid is available as soon as possible in case it was frozen.
The heating element (6), the temperature sensor (5) and level sensor (4) are housed in the heating pod (3). This allows the heater to heat small portion of the urea at and prevents fluid from splashing around inside the tank which will affect the level sensor and temperature readings.
The delivery pump (1) sucks the fluid from the tank and pressurizes it to a minimum of 3100 millibars. The pressurized fluid exits the pump at the feedline nipple (2) and is delivered via heated pressure line to the dosing injector located at the catalyst. The delivery pump has its own built in heater as well.
Oftentimes the heating element gets damaged and needs to be repaired or replaced. While there are OEM options for fixing this, we decided to manufacture a higher quality product with military grade components to offer a longer lasting and faster option. Check out our DEF Tank Heater Repair Kits here: https://xemodex.com/us/complete-def-tank-repair-kit-by-xemodex/