Repair Harness For Volvo Electronic Throttle Body (Etb)
When there are diagnostic trouble codes stored for the ETB, it doesn't necessarily mean that the ETB is defective. A large number of failures are caused by poor tension on the ETB connector plug. Volvo acknowledged that problem and released the ETB harness repair kit PN.31409380.
This is a brand new original repair harness for Volvo Electronic Throttle Body (ETB) It comes with complete female connector on the ETB side and female terminals on the ECM side.
To install this harness, you will need to remove the Engine Control Module (ECM) and the Transmission Control Module (TCM) and that requires a special tool PN. 9995722 (not supplied by us). Once both of them are removed, the entire ECM socket will have to be taken apart and the following connections made: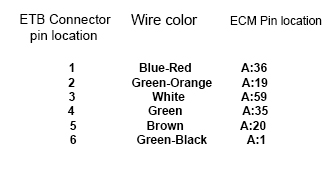 Warranty:
One-year warranty
Application: For Volvo
2002-2005 Volvo S80 Non-Turbo
2002-2009 Volvo S60 Turbo
2003-2005 Volvo C70 Turbo
2002-2007 V70, XC70 Turbo
2002-2005 Volvo S80 Turbo
2003-2006 XC90 Turbo
Part numbers:
31409380
Click here to view details regarding placing your order and shipping instructions.